Wall mounted Bioethanol fireplace DELTA2 SLIM TÜV GIFTS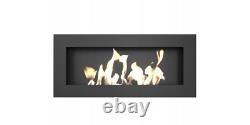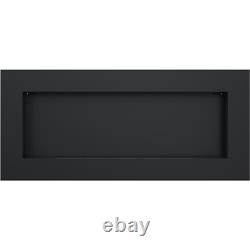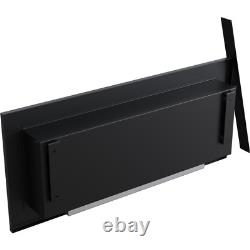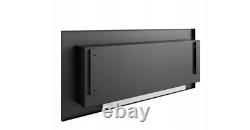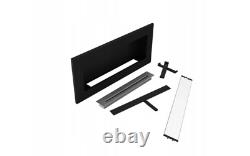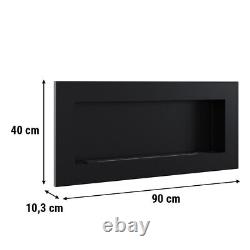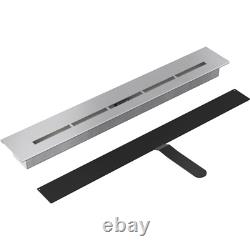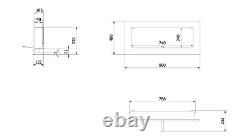 Bio-fireplace DELTA with long linear burner - fire length 50 cm. Dimension 90 x 40 cm. Depth 9 cm - on customers request we reduced the depth.
Easy to use bio-fireplace with a linear burner with a fire of 50 cm length. Wall hanging fireplace - to be hung on a wall or mounted in an alcove. Bio-fireplace is a fireplace using ecological biofuel, which gives a real fire raises the temperature in the room by about 2-3 degrees - ideal for chilly evenings in the block. It doesn't need a chimney, you can install it anywhere that is ventilated (it needs oxygen to burn).
Easy to use bio-fireplace has a special flame extinctor. The product of fuel combustion is water vapor, so it is safe for the environment.
Laboratory-tested for quality, ensures safety and a good quality of materials. Bio-fireplace will perfectly fit into any room - in the house and in the apartment building. It is a perfect decor element for any interior.
Funnel for easy pouring of fuel - FREE. 1 kg of white stones to decorate the burner - FREE. Pins for installation 2 pcs. Our bio-fireplace raises the temperature in the room. LONG, CLEAR LINE OF FIRE!
Bio-fireplace has a biocontainer with a newly developed long burner. The fire line is almost all the way around the niche. 50 cm - the fire line. 56,5 cm - length of the whole bio-tank.
5,6 cm - depth of the bio-fireplace. This model has an elegant black cover to extinguish the fire. It is the only one among our models that can boast such an interesting flame saver with a length of 50 cm.
Window pane - on other auctions you will find a model with a window pane which is placed in a designated place. An example of this element can be found in the photo opposite. You receive the bio-fireplace as a whole. The only thing to do is to hang it on the wall or place it in a niche. Model DELTA 900x400x90 is a unique bio-fireplace which has stable brackets for hanging and its small depth allows it to be placed in a small niche if you plan to install it in a built-in niche.
The bio-fireplace has additional holes for ventilation, which are not visible after hanging. Type of fuel: biofuel from biological alcohol. Type of bio-fireplace: wall hung. Biocontainer volume (l): 0.4.
Combustion time of the BIO-DECO fuel: 1 l. Burns from 2 to 5 hrs.
It is a form of an ecological fireplace to be used in any room (ventilated) - at home, in an apartment or even on a terrace or in a garden. You can choose a hanging, standing or portal bio-fireplace. In a bio-fireplace you burn bio-fuel which you pour into a container in the bio-fireplace, set it off and immediately enjoy the fire.
The main feature of bio-fireplaces, resulting from the use of smokeless alcohol-based fuel, is that they do not require chimney installation, you can install/place them anywhere. The heat generated by combustion does not go out through the chimney, but remains in the room. By burning in a bio-fireplace you can raise the temperature in the room by as much as 2-3 degrees, of course everything depends on the size of the room and the size of the flame. Remember to ventilate the room.
This is the fuel - bio ethanol, which is intended for burning in a bio fireplace. You pour it into a container. When burning, it burns to the end. Add the next dose to a cooled container. Our biofuel is safe for health and has been tested and approved for use by the National Institute of Public Health.
1 liter of biofuel burns for 2-5 hours, depending on the size of the flame. Our containers range from 0.2 to 0.75 liters, so the burn time for each container is different. Bio-fireplace with TÜV-certified safe bio-fuel container. The new TÜV-certified safety biofuel container has an additional special chamber that prevents fuel from spilling due to accidental overfilling. It also has a maximum level indicator and an absorbent pad to reduce fuel consumption and prevent spillage when the device is tilted (even with burning fuel in the container).
THE BIOFUEL PAD IS SAFE. An absorbent / absorbent insert for the biofuel container to reduce fuel consumption and protect against spillage due to tilting of the device. The length is adapted to the length of each of our fuel containers. We have different types of bio-fireplaces and therefore each one is assembled differently. Each bio-fireplace is accompanied by a manual so that you know how to install it. Hanging fireplaces always come with mounting pegs. Free-standing bio-fireplaces - are a group that does not require assembly - just assemble the elements that are in the package and set it up in a chosen place. Wall-hung fireplaces can be hung on a wall with the help of mounting pins included in the kit or built into a niche in the wall or a specially prepared structure.
This item is in the category "Home, Furniture & DIY\Fireplaces & Stoves\Fireplaces". The seller is "www_kratki_co_uk" and is located in this country: PL. This item can be shipped to United Kingdom.
Brand: Kratki
Type: DELTA/2/CZ/SLIM/KAMYKI/LEJEK
Item Height: 40.00
Material: steel
MPN: DELTA/2/CZ/SLIM/KAMYKI/LEJEK
Item Length: 40.00
Item Depth: 10.30
Item Width: 90.00
Item Weight: 14.52
Power: 0.0
Fuel Type: biofuel - ethyl alcohol
Colour: black
EAN: 5903751027270