Ethanol Firegel Fireplace Cheminee Caminetti Madrid Premium Black + 21 piece set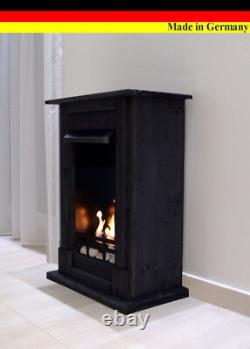 Bio Ethanol Fire Place Model Madrid Premium Color Black. The fireplace is made from the finest materials in our german company. Width: 60cm, height 76cm, depth: 31cm, Weight: 19 kg Material Fireplace: pinewood, color: stained Black Material burning gel-cans: tin plate Supplied with the following accessories: 1 Firebox Black 3 fuel-doses per 0.25-liter capacity (empty cans) 3 pieces of ceramic wool, suitable for the 3 fuel-doses 1 Metal Stand Black (powder coated for 3 doses) 3 Liter High Performance Bio-ethanol 1 Flame Killer stainless steel 10 white decorative stones Simply choose a place and set up. The operation is possible with fire gel as well as bio-ethanol.
Real fire, smoke free, no odors or fumes, no sparks, no ash, no soot or dirt, environmentally friendly bio-fuel (bio-ethanol or fuel gel). Easy and safe operation, gel and ethanol fireplaces are very popular.
No heat loss through the withdrawal of an open pit, fuel economy, maintenance-free, no cleaning is required. Finally feeling a real fireplace in each apartment. With our offer, it is possible to have a fireplace in your home. And easy as never before.
Unpack, fill in the fuel, burn it... That´s really all you need to do. There are neither time-consuming assembly work for fire and smoke even more annoying to testing or approvals.
A really simple and clean solution for permit-free fire pleasure. Our gel and ethanol fireplace give off considerable heat output, which remains without loss in space. The heating capacity of the fire is about 3, 5 Kw We have this fireplace in 9 colors: See our other offers! Spruce Wood stained in the colors: natural, black, red, cherry, walnut and oak. MDF (medium density fiberboard)lacquered: White, granite gray and granite black.