Bio Ethanol Wall Fireplace Inset Mounted Biofire Fire 90-140 cm with Glass Panel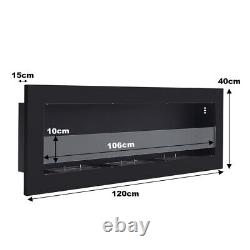 Affordable Ambience: Creating an inviting room starts with comfort, and there's nothing. More comforting on a cold day than a nice roaring fire. Light It Up: There's really no substitute for a real flame, right?
This real flame wall fireplace uses clean-burning bioethanol fuel that gives off no harmful emissions. Let'S Get Cozy: Our indoor fireplace gives off a generous amount of heat for the space it occupies. Clocking in at an area of 270-323 sq. While that's probably not your whole room.
It's definitely enough to keep you warm when you need it. As Always, Safety First: Efficiency and safety are our mottos when it comes to fireplaces. All our alcohol fireplaces are designed specifically to keep your home safe and. Size: 900 /1200/1400(W) x 400(H) x150(D) mm Material: Steel, Stainless steel, Tempered glass Finish: Black (fingerprint resistant), Brushed stainless steel Fuel Type: Ethanol alcohol MIN. 96% (liquid) Burners Capacity: 2.1 Liters 3 x 0.7l burners Approximate burn time: 2 - 5h/1Liter.
Due to courier restrictions some areas out of UK mainland.