Bio Ethanol Fireplace Riviera Deluxe Black Matt Wall Fire Place with Firebox 2L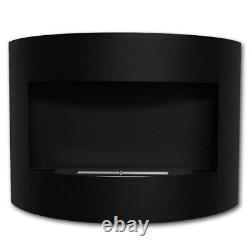 Bio Ethanol Fireplace Riviera Deluxe Black Matt Wall Fire Place with Firebox 2L. Ethanol fireplace - a new feeling of warmth, luxury and atmosphere! Tailor made fireplace on request. 60 x 42 x 21 cm. 1x Fireplace Model Riviera Deluxe. Design Bio Ethanol Fireplace Riviera Deluxe.
Enjoy the warmth of our fireplace in a romantic atmosphere. The fireplace model Riviera impresses with its classic shape and looks very modern. The model is not only optically an eye-catcher it also heats a room up to about 25 m².
All our fireplaces are handmade. This guarantees you an absolute high quality. Our fireplaces are suitable for both indoor and outdoor use. The Model Riviera Deluxe has a front section made of powder coated steel and is available in the colour black matt. The powder coating makes the paint particularly shockproof and heat-resistant.
Included is 1 adjustable firebox made of stainless steel. This burner has a capacity of 2 liter and is filled with ceramic wool. By the movable flap, it is possible to regulate the size of the flame and to optimize the consumption of fuel. The approximate burn time is ca.
Additional models and accessories are available in our store. We manufacture our own fireplaces and make use of high quality materials.
This fireplace will be delivered fully assembled. Simply choose a place in your house and fix it to the wall. As well as bio ethanol, gel can also be used as fuel.
The combustion of bio ethanol produces carbon dioxide in a similar amount, which is comparable to the air that a person breathes out. You may also be interested in these products. White, Red, Black and Silver.
1L, 2L, 3L, 4L or 5L. Black, White, Red and Silver.
50cm, 60cm, 70cm, 80cm, 90cm or 102cm. We always try to meet your needs. Enjoy pleasant quality time in front of one of our fireplaces, without the nuisance of smoke and bad fumes ruining the atmosphere.
Bio ethanol is free from smoke or bad fumes, no sparks and no ash. Cleaning after use is therefore not necessary. You don't need a licence to own a biofireplace.
You can use one anytime and anywhere you wish: in your flat, in your conservatory, in your in yor holiday house, etc. Our fireplaces are delivered as pictured, already assembled, in order for you to save precious time. Just find a place and fix the fireplace onto a wall or put it on the floor. More and more people choose the practicality, safety and eco-sustainability of our biofireplaces.
The best performance of heat and consumption can be reached by making use of fuel consisting of 96% bio ethanol. Depending on the circulation of the air in the room, 0,5L of bio ethanol has a burning time of about 4 hours. When burning 1L of ethanol, the output will be of 6KW.
A fireplace with 3 burners of 0,5L will burn for 4 hours. The output will be: 9KW (=1,56KW) / 4 hours = 2,25 Kw/h. If the fireplace has 4 burners of 0,25L, the burning time will be of 2 hours with an output of 3KW/h.
We wish you to spend relaxing time in front of the real flame of our biofireplaces. The fireplaces are handmade in our own workshop. Only the best and high quality materials are being used with care and precision. After completion all fireplaces are powder coated.
The paint is attached to the metal of the fireplace at 800 degrees. Advantages of a powder coating are: paint is extremely heat resistant, it is impact resistant, it is colourfast, it has a smooth surface. You will be pleasantly surprised by the design and quality of our fireplaces. We wish you a pleasant time in front of our fireplaces!