BIO ETHANOL FIREPLACE BLACK MATTE BOX 90x40 DESIGN ECO FIRE BURNER + ACCESSORIES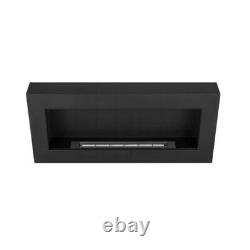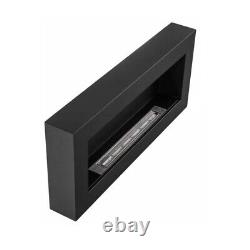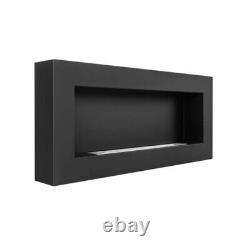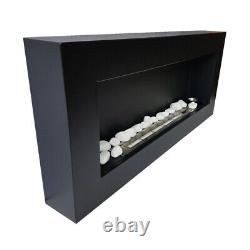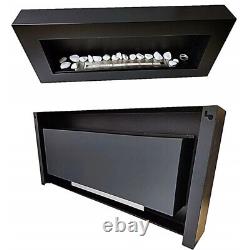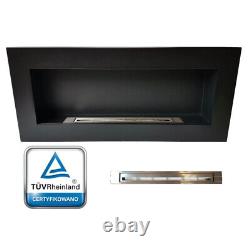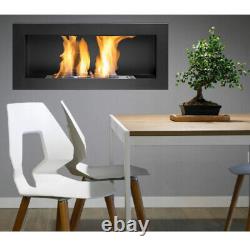 You also get: 1kg stones, 3x Aroma oil. Biofireplace named "BOX IN FLAT" Black.
Matte in the new version of Exlusive 2021. Technical data for the EXLUSIVE 2021 version. Made of powder coated steel.
Type of biofireplace: to be hung on the wall, without the need to make any buildings. An ideal replacement for a normal fireplace, meeting the assumptions of ECODESIGN.
It does not emit any poisonous or harmful compounds when burned. A biofireplace to hang on the wall, without the need for installation (WITHOUT A CHIMNEY). Raised front edge for safe arrangement of accessories for the interior of the bio-fireplace.
The back of the bio-fireplace (black part) does not touch the wall after installation, thanks to the external frames extended by a few mm. This small gap ensures the circulation of warm air behind the bio-fireplace. The side frames (black) are adjacent to the wall, and there is an opening at the bottom for ventilation.
Burners: 1 long burner made of stainless steel, with a capacity of 0.75 liters, with an absorbing / absorbent insert to prevent the spill of biofuel in the event of a TUV-certified biofireplace overturning, length 52.5 cm. A biofireplace called "Box in flat", "a box in the apartment", is not only an ornament, but also a perceptible source of heat. The biofireplace does not require connection to the chimney, just like an ordinary fireplace. 100% of the heat generated by burning biofuel remains in the room.
A biofireplace is an excellent form of supplementing traditional heating. The air is warmer and more humid. By using aromatherapy oils, we can also introduce unique aromas to our interiors that will improve our well-being and mood. Advantages of the "BOX IN FLAT" biofireplace in the latest EXLUSIVE 2021 version. Continuous line of fire (no candle effect).
D container with an absorbent insert and a German TUV certificate confirming the safety and quality of the product. Full sides of the bio-fireplace (we hang it like a picture on the wall without the need for installation). The holes for the plugs are on the back of the bio-fireplace, so you cannot see the screws after hanging. The fixings on the back of the bio-fireplace are not visible from the front.
An ideal replacement for a normal fireplace, meets the principles of ECODESIGN, environmentally friendly. Before assembly and operation, it is essential to read the operating instructions. After the bio-fireplace is safely mounted on the wall and the burner is inserted.
Pour in biofuel using a funnel. Pour to the level of the MAX indicator located inside the burner. Place the aromatherapy container next to the burner and pour in the aroma.
Light a biofireplace with an igniter or a long match. If we want to extinguish the flame, use a brush. For companies in the EU. Otherwise, please provide your name and surname.