All in one Bio Ethanol Tornado Stove without electricity Fireplace Spiral Flame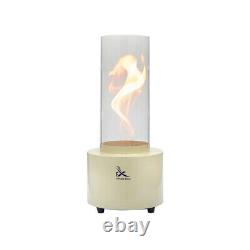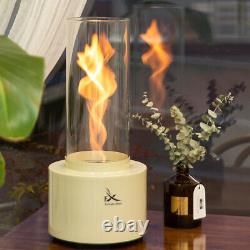 Welcome to KOSME SMEs, small and medium-sized Enterprises, are small in size but big in potential. To support and facilitate the success of Korean SMEs, KOSME, Small and medium Business Corporation, aims to support such businesses, setting strategic goals of strengthening self-sustainability and promoting globalization in order to help SMEs build a better future for all.
KOSME will achieve world-class product competitiveness in quality and price through continuous innovation. Ltd specializes in a range of special effects for all types of events and occasions.
We are able to produce customized products for our customers by various experience and technical know-how. EAN 8809714591499 Model name : TS-300 Material : Heat-resisting glass Size : 200 x 440 mm(h) Total Weight : 1,900g Fuel consumption : 0.5L/H Product components 1 set of Tornado stove / 1 pcs of Funnel 1 pcs of Fuel saver / 1 pcs of Fire killer. Introduction of Tornado Stove TS-300 Thank you for purchasing our Tornado stove TS-300 an Eco-friendly bio ethanol fireplace. By applying our unique design technology, TS-300 produces a height of 12 inches twisted tornado flame. Also designed to be completely burned and can be used for about 1 hour with 0.5 liter of fuel. Eco-friendly bio ethanol is used as a fuel, so no soot, smoke, or odor, generally there is no need for ventilation. This Eco-friendly tornado bio ethanol fireplace can be assembled in one minute and easy to maintain due to no pollution.
Where do you want to use this sensuous and compact one. Easy to move and install indoors and outdoors. Feel the comfort of a cup of tea with a fantastic spiral flame created through a transparent glass tube, and your beautiful dreams will bloom again before your eyes. Enjoy it as easy heating during camping, creating colorful and dreamy atmosphere at indoor and outdoor parties with friends.
It also can use Indoor accessory heater. How to Use and Safety Warning 1. Place the fireplace on a flat floor. Slowly inject 0.5 liter of bio ethanol into the fuel container with the glass tube removed. Use a suitable tool to light the fuel container through the rear side hole.
(fig 2) If you want to use fuel saver, install it on center of fuel container. The fuel using time will be increase more 1 hour. You can enjoy 2 hours with 0.5 liters of fuel. If a flame is detected, put the glass tube back on the fireplace. When extinguishing, cover the fuel container with the included fire killer and wait at least 5 seconds.
Do not inject fuel or move fireplace during use 7. Don't use in a confined space, as there is a danger of asphyxiation. Do not touch the glass while it is in use or immediately after use, as it may cause burns.
Do not put foreign substances of flammable material into the flame side during use. Prepare fire fighting materials nearby, for in case of unexpected accidents. Be care of children and pets when it works.
Do not modify the fireplace. Make sure to use fireplace-only bio ethanol as fuel and do not use other fuels, like petroleum oils, wood 14. This fireplace is not permitted to cooking food or warming water. Do not fall down the product or blocking the ventilation holes on bottom of product.
Dont use if flammables are within 1 meter 19. Do not use if there is flammable material at the top of 2 meters.
The item "All in one Bio Ethanol Tornado Stove without electricity Fireplace Spiral Flame" is in sale since Thursday, November 26, 2020. This item is in the category "Home & Garden\Home Improvement\Heating, Cooling & Air\Fireplaces & Stoves\Fireplaces". The seller is "art_cater" and is located in Seoul. This item can be shipped worldwide.
Country/Region of Manufacture: Korea, Republic of
Type: Stove
MPN: s_hsfx_stove
Brand: Tornado Stove